Sweet Pea is 33 months old.
From: Color Tablets are another traditional Montessori activity.  I found a simple version of this activity in the book Teach Me To Do It Myself by Maja Pitamic and another good description in Basic Montessori: Learning Activities for Under-Fives by David Gettman.
Material:
12 color tablets, which can be purchased (high quality color tablets from Nienhuis or cheaper tablets from Amazon) or handmade  (see Procedure section).
A box to store the tablets (optional).
A tray (optional).
If you are hand making the tablets you will need:

22 Paint color sample sheets from your favorite home improvement store.  Select 2 identical sheets from each of the following 11 colors: red, yellow, blue, green, orange, purple, pink, brown, white, gray and black.
22 Thin wooden craft rectangles about 1″ wide by 2″ long (I found mine at Micheal's).
Scissors.
Pencil.
Glue (I prefer Vario Adhesive Squares).
Mod Podge (optional, but recommended for durability).
Clear Acrylic Sealer (optional, but recommended for quality).
Procedure:
To create homemade color tablets:

Cut out the brightest sample from each each of your 22 paint color sample sheets.  After you are done, you should have 11 pairs of color strips.
Lay a wooden rectangle on top of one of the 22 color strips and trace its outline.  Repeat for all of the remaining color strips.

Cut out each of the traced rectangles from the paint sample strips.
Cut about 1/4″ off of the short edge of each rectangle.

Glue the cut rectangle onto the center of the piece of wood so you can see wood peeking out on both sides of the color.  (If you are using regular glue, make sure to let it dry completely before working with the Mod Podge!)  Repeat with all of the remaining colored rectangles.
Optionally, paint Mod Podge onto the top of all of each of the color tablets and let dry.
Optionally, spray sealer on top of each of the Mod Podged pieces and let them dry.
To present the color tablets to your tot:

Start with the pairs of red, blue and yellow color tablets.  Bring them to the table where you and your tot will be working.
Lay one of the red, blue and yellow tablets in a vertical row on the left side of the table.  Lay the remaining red, blue and yellow tablet in a horizontal row along the bottom of the table.
Sit next to your tot, facing the color tablets and say, "We are going to match up these colors."
Point to the first tablet in the horizontal row and say, "This one is blue. I want to find the matching blue one."
Move your finger over the vertical column until you get to the matching blue one.  Say, "Here is the blue one," as you pick it up and lay it directly above the blue tablet in the horizontal row.
Let your tot do the next ones.
Repeat the activity, adding in more colors as your tot gets the idea.
Observations: Sweet Pea was really attracted to these and did enjoy working with them, but she didn't stay interested as long as she has with other activities.  She already knew all of the colors and matching the tablets was too simple for her.  However, I think this would be a really great activity for a younger tot or one who was struggling with colors.
Sweet Pea's favorite part was stacking the color tablets in a little cardboard box I had provided for her to store them in.
Notes from the Trenches:
Your paint sample rectangles will curl-up like crazy if you don't glue them to the squares before using the Mod Podge.  I had a terrible time getting them to lay flat  until I started using the adhesive squares first.
Rating: 3 Stars * (Fun, Independent, Frugal – if you just cut the colored rectangels out of paint sample strips and don't worry about actually making tablets.)
Links: This page is linked from Carisa's Tool's for Tots: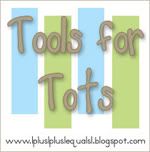 and from One Hook Wonder's weekly Toddler Tuesday Carnival: